OTHER MINDS Presents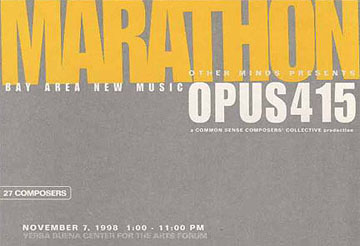 Bay Area New Music Marathon
Produced by the Common Sense Composers Collective
Saturday, November 7, 1998

1 PM - 11 PM

at Yerba Buena Center for the Arts FORUM
San Francisco, CA

"...one of the most exciting new music events of the year, a day where the work of composers of all ages and styles is showcased in a marvelously informal atmosphere"
-Paul Dresher, Artistic Director, Paul Dresher Ensemble/Musical Traditions
"I came away from the concert marveling at the logistics of the event... The programming was excellent, the stylistic range impressive."
-David Meckler, Paris New Music Review
About OPUS415
OPUS415 No.4 is the fourth annual New Music Marathon produced by the Common Sense Composers' Collective. The San Francisco Bay Area is rich with different pockets of musical exploration, and in 1995 the members of Common Sense created an event that brought these many diverse voices into one festive and celebratory feast for the ears. This year the Common Sense Composers' Collective is pleased to have Other Minds as its presenter and co-sponsor, a fruitful collaboration which has enabled the Marathon to expand and grow to include ever more diverse artists. Included among the over 25 Bay Area Composers and over 100 Bay Area performers are Pauline Oliveros, Philip Gelb, Dana Reason, Belinda Reynolds, Carl Stone, Sarah Cahill, Miya Masaoka, Donald Swearingen, Pamela Z, Mitchell Clark, Carolyn Yarnell, Jay Cloidt, Charles Amirkhanian, David Wessel, Vijay Iyer, Dan Becker, D'Cuckoo, the Tuolumne Brass Ensemble, and numerous others. OPUS415 No.4 is also pleased to present three special visiting guests: 20th Century pioneer Henry Brant, the unclassifiable but always evocative Harold Budd, and the poet of electronic sound Ingram Marshall performing with new music oboist Libby Van Cleve.
Other OPUS415 No.4 Highlights
This year's Marathon features a work created especially for OPUS415 by visiting guest Henry Brant. His piece, Common Interests, will combine numerous performers from throughout the day into a single work which will close the Marathon.
OPUS415 No.4 also features numerous works for multiple identical instruments. These include a piece for three baroque violas da gamba, a piece utilizing three 16mm film projectors as musical instruments, a piece for five electric guitars, a piece for eight ratchets, and a piece for 14 accordions.
The duo Tyranny of Two will act as ambient DJ's throughout the day, providing music from their 'dueling powerbooks' between each of the four musical sets.
Animator Jason Shiga has created a short film especially for OPUS415 No.4, to be accompanied by Nik Phelps and the Sprocket Ensemble.
About the Common Sense Composers' Collective
The Common Sense Composers' Collective is a bi-coastal, SF-NYC based collective of eight composers. Now in their fifth year, the group continues to explore alternative ways of conceiving and completing new works. Their initial project was the creation of, and collaboration with, the eleven-member Common Sense Ensemble. The works resulting from this first project were released as a CD by Composers Recordings, Inc. on their acclaimed Emergency Music Series in January, 1997.
They have since gone on to complete Bay Area collaborations with the Alternate Currents Performance Ensemble and the period-instrument ensemble American Baroque, as well as New York City collaborations with the innovative duo Twisted Tutu and the Meridian Arts Ensemble. Upcoming projects include the Albany Symphony's chamber orchestra, Dogs of Desire, and the Pittsburgh New Music Ensemble.
With the OPUS415 Marathons, Common Sense has extended their philosophy of collaboration and bridge-building. OPUS415 No.4 is presented with the continued hope of fostering new ideas and generating new connections.
About Other Minds
Other Minds is dedicated to contemporary music in all its forms through its concerts, workshops, and conferences that unite artists and audiences of all traditions, generations, and cultural backgrounds. The first Other Minds season began in 1993 with a series of festival concerts that were part of the inaugural season of San Francisco's Yerba Buena Center for the Arts, and among its composers included Robert Ashley, Philip Glass, Jon Jang, Meredith Monk, Conlon Nancarrow, Trimpin, and Julia Wolfe. Other noted composers who have participated in recent Other Minds festivals have included Lou Harrison, Terry Riley, Laurie Anderson, La Monte Young, and Frederic Rzewski. Additional programs held by Other Minds have been performances by the late Indian vocalist Pandit Pran Nath, the English violin-piano duo Double Exposure, and the American premiere of a series of piano works by Gyorgy Ligeti.





address inquiries to:
Common Sense Composers' Collective
Dan Becker, Director 4348 26th St. SF, CA 94131
415/285 8680