.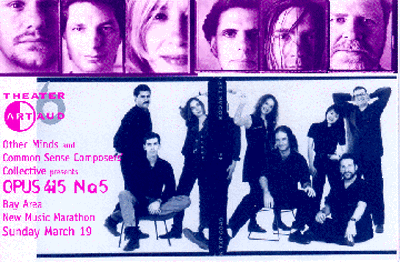 OTHER MINDS Presents

OPUS415 No.5 Bay Area New Music Marathon
Produced by the Common Sense Composers Collective
Sunday, March 19, 2000 1 pm - 11 pm
Theater Artaud, San Francisco
All Day Pass $18, $13 students/seniors
Tickets: 415-621-7797 Info: 415-285-8680

or buy on the web at www.ticketweb.com


OPUS415 No.5

will feature over 25 mostly Bay Area composers, and 75 performers, including The Paul Dresher Ensemble Electro-Acoustic Band (acting as 'house band'), Gamelan Sekar Jaya, Mark Gray with cellist Joan Jeanrenaud, and visiting guest David Del Tredici. The marathon's 10 hours of mostly music will present a diverse mix of works that bridge the gap between the streets and the university.

At OPUS415 Marathons, unconstrained improvisation brushes up against elaborately notated scores. Baroque period instruments mix with high-tech computer-generated sounds. Young and emerging composers share the stage with established artists. By building bridges between these diverse voices, OPUS415 showcases, celebrates, and energizes New Music in the Bay Area

ADDITIONAL BONUS CONCERT!
"The Shuffle Show"
Friday, March 10 7pm appetizers, 8pm music starts
Theater Artaud $25 Donation (more if you can!)
A benefit concert for OPUS415 and Common Sense: food, drink, and featured performances by Sarah Cahill, Miya Masaoka, Amy X Neuburg, Donald Swearingen, and Pamela Z.


Both OPUS415 Marathon and benefit concert for only $35!

(For tickets, see above)

BONUS:
Jason Shiga's animated short, commissioned by Common Sense for last year's OPUS415 No.4. Original score by Nik Phelps, (music coming soon.)
Video



To: OPUS4 (November 7, 1998) &OPUS3 (December 7, 1997)

OPUS415 No.5

Complete Performance Schedule
Lineup
Visiting Guests
David Del Tredici
David Lang
Christian Wolff Lary Polansky/Kui Dong Trio
Randall Woolf
House Band
Paul Dresher Ensemble Electro-Acoustic Band

Ambient "DJ", (before & between sets):
JHNO
Bay Area Artists:
Gamelan Sekar Jaya
Mark Grey & Joan Jeanrenaud
Tin Hat Trio
John Bischoff
Paul Dresher
Vazuvilla
Dan Plonsey
Fuzzy Bunny (Chris Brown, Tim Perkis, Scot Gresham-Lancaster)
Citizen Band
Jay Cloidt
Cindy Cox
Melissa Hui
Belinda Reynolds
Elinor Armer
Mathew Goodheart
Katherine Shao
Silvia Matheus
Paul Hanson
Matt Ingalls
Brian Reinbolt
Mike Fiday
Dan Becker
Danielle DeGruttola & Ashley Adams Duo
Mathew Burtner
Wobbly (Jon Leidecker)
ONLY IN CALIFORNIA!
Come to the Shuffle Show and be eligible to enter our RAFFLE where we'll give away two "body rejuvinator" packages, each one totalling over $500 in services, including: full European facial, body massage, chinese herbs, chiropractic exam (including x-rays), etc!
Thanks to our Community Donors and Sponsors!